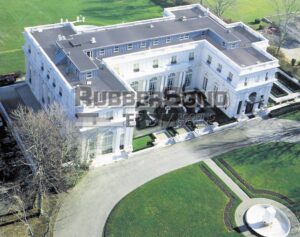 PROFESSIONAL RUBBERBOND ROOFING INSTALLATIONS IN STRATFORD UPON AVON, BIRMINGHAM, COVENTRY AND WORCESTER
Developed leaks or cracks, the expert roofers at Marcus Roofing Midlands can return it back to a watertight condition. Our roofing contractors specialise in installing Rubberbond roofing. Affordable and incredibly long lasting, Rubberbond roofing will provide excellent protection for your roof. Contact our team to arrange a quote in Stratford upon Avon, Birmingham, Coventry and Worcester.
CONTACT US TODAY
OR

WHY CHOOSE RUBBERBOND FLEECEBACK EPDM SINGLE PLY FLAT ROOFING?
Does your flat roof
 ne
ed a
new waterproofing system?? Does your new build need a fresh looking/long lasting waterproofing system? The

RubberBond

FleeceBack EPDM rubber roofing system

will provide you with a strong, watertight roof that will last for years. No matter what size or shape of roof you have,

RubberBond roofing is a great option.

The

single ply membrane of

RubberBond

EPDM can be applied to

flat roofs of any

size or shape

and is used for repairing existing roofs and installing new roofs for both residential, commercial and industrial buildings. RubberBond

Fleeceback EPDM

looks fantastic on any style of property. Major companies such as

Staples, Microsoft
and Honda

choose

RubberBond roofing for their roofs. For homeowners that are having problems with leadwork being stolen, RubberBond is a

less expensive alternative

. Additionally, you can use RubberBond

EPDM

to line

Finlock gutters.
BENEFITS OF THE RUBBERBOND FLEECEBACK EPDM FLAT ROOFING SYSTEM INCLUDE:
LONG LASTING – OVER 50 YEARS OF PROTECTION
RubberBond roofing is eco-friendly and recommended by government bodies.
NO SHRINKAGE OR STRESS – NO MORE ROOF LEAKS
RubberBond roofing can be used on roofs of all shapes and sizes.
LOW MAINTENANCE – SAVE TIME AND MONEY
RubberBond roofing "breathes" which helps to prevent blistering.
REPELS MOISTURE – PREVENTS MOSS AND PLANT GROWTH
RubberBond roofing is incredibly resistant against UV or extreme weather conditions.
Your local approved master contractor for RubberBond EPDM
You can have complete confidence in our workmanship as
Marcus Roofing Midlands is an approved master contractor
for RubberBond
EPDM
throughout
Stratford Upon Avon,
Warwickshire, Midlands and Worcestershire. Our roofing contractors are experienced and regularly undergo training to keep their skills up to date. RubberBond EPDM is BBA certified which is
recognised throughout the construction industry as a mark of quality
. All work comes with an insurance backed guarantee through the Consumer Protection Association.
To find out more about our RubberBond roofing, call us on: